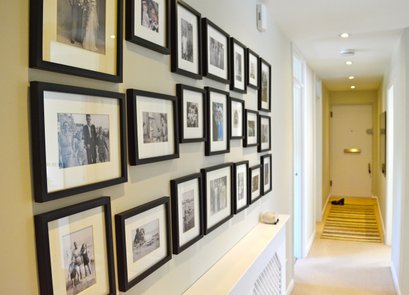 This month's
D E S IG N T I P S »
HOW TO DESIGN A HALLWAY
The entrance hall to your home creates the first impression for anyone arriving, be it postie, delivery person or guest! Additionally it sets the style and tone for the rest of your home.
Our interior design courses have been teaching students for years, including many who have gone on to set up their own design businesses, and here we share our knowledge, tips and inspiration for creating the perfect hallway.
Entrance halls come in many shapes and sizes but the basic principles of interior design are the same whether you have a tiny square, open plan or long corridor.
1. Start with your focal point
Think about how you will lead the eye immediately upon entering the space. You may only have a small area to work with but there is always a wall involved! If you can't add a console table or other small item of practical furniture with a mirror or art above it, use the obvious wall to just add art. Be bold with its size and make it stand out. Mirrors should not be placed opposite the front door as this is contradicted in feng shui and bounces the energy (chi) right out of the door before it gets the chance to flow through your home.
2. Think about your lighting and use it as a crucial layer to your hallway's interior design. A stunning light fixture can be your focal point if the wall arrangement isn't working for you. But in any case, lighting is a vital component to create a welcoming atmosphere.
3. Add functional accessories like textured baskets for shoe or boot storage and attractive containers for keys or receipts. Choose items which look beautiful as well as being practical.
4. Ground your space with a rug which will define the space and create warmth as well as being practical. A runner which ties in with your colour scheme but adds pattern and texture would look great but if that doesn't fit then a small mat can also do the trick.
5. Finally add art and accessories wherever you can to finish off the look. This may be a stylish arrangement on a console, a plant, flowers, or a small keepsake on a radiator cover, but it will add interest and texture to your design.