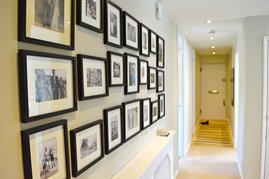 FREQUENTLY ASKED QUESTIONS »
I have never used an interior designer before. What happens if I have some work that needs doing? In the first instance message or call us for an informal chat. Our interior designer will be happy to discuss your interior design brief including your tastes and preferences, budget, space planning and proposed project deadlines. We have now taken all of our interior design services online so after this initial contact you will receive e-design boards and advice via email or telephone/Whatsapp.
Can you outline what basically happens under your interior design service?
It depends how much, or how little, help you need, but some things we can do are to:
• home styling/staging
• help with space planning
* prepare e-design boards/colour schemes, displaying fabrics, wallpapers, carpets, lighting, furniture, and accessories according to your particular needs
• supply and fit kitchens
• provide estimates as required for decorating, carpentry, carpet or wooden floor fitting, etc
• give you written estimates to supply all the materials that we choose together
• liaise with you and tradespersons or architects who are working on your space
• provide furniture and lighting or electrical layouts, where necessary
• email suggestions of suitable furniture, accessories etc
• take time to help you choose lighting, rugs, cushions, and all the other important finishing touches
• style your home with your existing furniture and accessories or suggest a few changes according to your budget.
Do you provide an online only service? Yes, we do. Our Online E-Design Board Service means you never actually have to meet an interior designer! All contact is by email and you can use the provided design boards and itemised spreadsheet for each room to carry out the project yourself, with our guidance.
How do I know you will provide a good service? Can you give references? We are extremely proud of the good service we provide and we have been voted by the Houzz community as a winner of the Best of Houzz awards. Our work won for the Customer Service category, as one of the top rated home building, renovation and design professionals in the UK and around the world! See our Houzz profile for project photos and reviews.
I have my own builder or want to DIY, does this matter?
We can provide competitive quotes for any work, and you are under no obligation to use our own contractors. If you need to make use of them, we do have our own construction teams to ensure continuity, personal attention and seamless reliability to our clients, including bespoke carpentry, joinery, decorating and property refurbishment or maintenance services.
I only want one room decorated. Is this too small a job for you? Absolutely not! We undertake any size project. Often our clients do book us for just one room, to get to know us and then usually return to us for further work as required.
How much do you charge? The cost of using an interior designer is not as much as most people imagine, and using an interior designer saves a great deal of time and money. Not only do we ensure you don't make expensive mistakes, but we can also help with time-consuming tasks, such as providing the most competitive quotes for decorating, carpentry, or building work. We can frequently source items for your home at cheaper prices than you would find on the high street. See our Online Design page to book us today. We believe we offer great value with the highest quality and service available.
I am very busy working and don't have time to go shopping or deal with the choices I need to make or interior design decisions but I want my property refurbished. How can this happen? Nowadays, the majority of our clients greatly prefer to use email or Whatsapp for continuous contact where we can liaise to realise a project. Our designer can send over images where necessary and many decisions can be made in this way. If you are extremely busy, the aim is that our interior designer takes over all the hassle and lets you get on with your work/life. We are there to help as little or as much as you need.
Do you just do decorating without interior design advice? Can I just book the trades like decorators, joiners, plumbers or electricians? Yes, we work with a team of trades people that can give you independent quotes for carpentry/joinery, interior decorating, landscape gardening or any other property refurbishment work you need at extremely competitive prices. This does not have to be connected to our interior design work. Currently, our trades team can only work under social distancing measures. Please call Michael on 07906 839093 to discuss.
Which areas do you work in? We operate in Hertfordshire, north London, Middlesex and St Albans, however, we have also carried out projects much further afield within Europe. The vast majority of our work is by referral and we are proud of this. We are happy to discuss any future project informally. Additionally, all our design services are available completely online. Follow this link to ONLINE DESIGN for further details.
What if I just need some property maintenance or decorating and no interior design help? As mentioned above, that is absolutely fine. The interior design part is not essential and you can also receive a competitive quote for any work you require. Please email us at propertyservices@brightspacedesign.com. We will always try to beat or match any genuine, written quotation. We are currently only booking essential jobs and can only work under social distancing measures. Please call to discuss on 07906 839093.
Do you provide a "house doctor" service? Yes, we offer a simple House Doctor service and can style your home or improve what's there for the purpose of putting your home on the market to achieve a quicker sale, or to just refresh, declutter or update it for your own enjoyment and comfort! This is now one of our popular Online Design services.
Do you have a question for us? Email info@brightspacedesign.com